Warning! Do NOT Download Without a VPN!

Your IP Address is

. Location is

Your Internet Provider and Government can track your download activities! Hide your IP ADDRESS with a VPN!

We

strongly recommend using

a VPN service

to anonymize your torrent downloads.

It's FREE!

START YOUR FREE TRIAL NOW!



[HR] What If S01 (2021) [DSN+ 4K To 1080p HEVC OPUS 5 1]~HR-DR




Status:
All the torrents in this section have been verified by our verification system
Category:
Television
Size:
3.7 GB in 19 files
Grabbed On:

10-10-2021

from a torrent source
Swarm:
0 Seeds & 0 Peers
Language:
English
Vote:

No votes yet.
| | |
| --- | --- |
| Connected Peers: | 0 peers. |
| Downloaded: | de . |
| Remaning Time: | . |
| Download Speed: | 0 b/s / 0 b/s |
| Download Progress: | |


[HR] What If...? Season 1 (2021) COMPLETE [Disney+ 4K to 1080p HEVC 10-Bits OPUS 5.1]-Doc_Ramen

"What If…?" flips the script on the MCU, reimagining famous events from the films in unexpected ways. Marvel Studios' first animated series focuses on different heroes from the MCU, featuring a voice cast that includes a host of stars who reprise their roles.

Video: 1920 x 872 | HEVC H265 10-Bits (Video Source is from 4K UHD )
Audio: English Opus 6 Channels Surround

Episode Total: 09

Encoder: Doc_Ramen
Sound: Doc_Ramen
Powered by M1 Mac mini




Download The S01 COMPLETE 4K UHD SDR10 Version : Click Here!




SUBTITLES:
Japanese, English, English-SDH, French, French (Canadien), Spanish (European), Spanish (Latin America), Portuguese (European), Portuguese (Brasil), Swedish, German, Danish, Finnish, Dutch, Italian


Click the Ramen to join our Discord!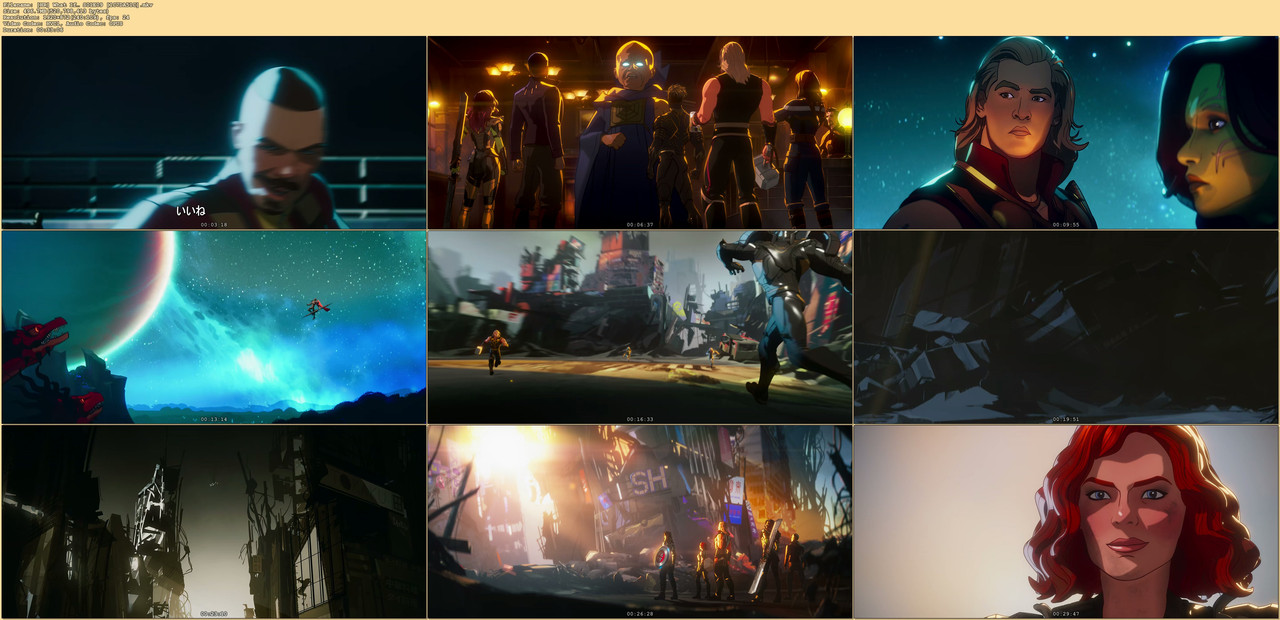 Download The S01 COMPLETE 4K UHD SDR10 Version : Click Here!








[HR] What If… S01E01 [0EBBAACB].mkv [d417dc5720b061ff4d369b2019c008d125b6517874a6405322a5b1bbfb452eca3f39a067acd419cad5e3f76905a31cda07ec37bb05a62b73c72614cd6d4ddd00]
[HR] What If… S01E02 [4DD1D3DA].mkv [5a316227c06c19c111097a01fe4c0d6f31488b0df1c6017a93ee9b231b43690b7f6d8fb03e4fcebaf873a37e0b6d135ee2598a72516e5f78cb5c13c1d713a1bb]
[HR] What If… S01E03 [485B6181].mkv [073bd0fc68fe100da1d85b0865ff3619b152c0141abdfc1ce1b57c193fff6bea50d05d756d42ac96a7c5916d93423f1daafa4a8b0a54a9352736e16db8eef982]
[HR] What If… S01E04 [B3843D13].mkv [40eb9215fbda083fea4dd7dba783442b8824d9fe1748fbc774c34e8e43060a8ec9d894b0cad95786a2968d79b2be95aa2981157c26b485624bf189db0025cd12]
[HR] What If… S01E05 [3148B0A9].mkv [c049311335716dbf528d0aa10953e6bc3bc67208324f8c5a874c96a67ccc4a684c22629eec93344af92bd1a64bcf8d6dc8836ceeb1980687cdcaee378a064ee4]
[HR] What If… S01E06 [3B881318].mkv [bed18b71f2dc776c4900bd0272020bf22eecc4d1b0cce67de562918117914ae40135b90ca8a9c5554392baa045be653fd554bd888c69fb2ce141362a403dc17a]
[HR] What If… S01E07 [117E552A].mkv [bcdba93715afc0d3358fd15ee03a529e949e279cc4befbcc51b340879a2dfe6066425474604a893353ac971bf455b27224f2d79f386b46dc51a14a3f7d9a8619]
[HR] What If… S01E08 [478284D0].mkv [0fff840101adfe6bd42045bf42236ae14b9441aefcdc95b9a79b8ca9cfa92cf66fcfc103019aa39f56f6ec03ba5bdc67dd5a754d6e1c45e67454627dae3605b7]
[HR] What If… S01E09 [1C7DA51C].mkv [48c920c38bca01f888faf891d17aa603b45ef168b8b4f2ad627b260479672eb0ef60fca15a65a22ad55ee8aa67dd54439b6587482c47d80439beaea68283ed64]
VISITOR COMMENTS (0 comments)
Filename
Size
Filetype
[HR] What If S01 (2021) [DSN+ 4K to 1080p HEVC OPUS 5 1]~HR-DR
3.7 GB
Folder
[Hakata Ramen] What If... {Season 1} (2021) [Disney+ 4K to 1080p x265 OPUS 5.1] ~Doc_Ramen.ske
2.4 KB
[HR] What If... S01E01 [DSN+ 4K to 1080p HEVC OPUS 5.1]~HR-DR/[Hakata Ramen] What If... S01E01 [Disney+ 4K UHD to 1080p x265 OPUS 5.1].ske
1004 B
[HR] What If... S01E01 [DSN+ 4K to 1080p HEVC OPUS 5.1]~HR-DR/[HR] What If… S01E01 [0EBBAACB].mkv
431.3 MB
Multimedia File
[HR] What If... S01E02 [DSN+ 4K to 1080p HEVC OPUS 5.1]~HR-DR/[Hakata Ramen] What If... S01E02 [Disney+ 4K UHD to 1080p x265 OPUS 5.1].ske
991 B
[HR] What If... S01E02 [DSN+ 4K to 1080p HEVC OPUS 5.1]~HR-DR/[HR] What If… S01E02 [4DD1D3DA].mkv
604.5 MB
Multimedia File
[HR] What If... S01E03 [DSN+ 4K to 1080p HEVC OPUS 5.1]~HR-DR/[Hakata Ramen] What If... S01E03 [Disney+ 4K UHD to 1080p x265 OPUS 5.1].ske
996 B
[HR] What If... S01E03 [DSN+ 4K to 1080p HEVC OPUS 5.1]~HR-DR/[HR] What If… S01E03 [485B6181].mkv
284.9 MB
Multimedia File
[HR] What If... S01E04 [DSN+ 4K to 1080p HEVC OPUS 5.1]~HR-DR/[Hakata Ramen] What If... S01E04 [Disney+ 4K to 1080p x265 OPUS 5.1].ske
1014 B
[HR] What If... S01E04 [DSN+ 4K to 1080p HEVC OPUS 5.1]~HR-DR/[HR] What If… S01E04 [B3843D13].mkv
343.9 MB
Multimedia File
[HR] What If... S01E05 [DSN+ 4K to 1080p HEVC OPUS 5.1]~HR-DR/[Hakata Ramen] What If... S01E05 [Disney+ 4K to 1080p x265 OPUS 5.1].ske
918 B
[HR] What If... S01E05 [DSN+ 4K to 1080p HEVC OPUS 5.1]~HR-DR/[HR] What If… S01E05 [3148B0A9].mkv
382.3 MB
Multimedia File
[HR] What If... S01E06 [DSN+ 4K to 1080p HEVC OPUS 5.1]~HR-DR/[Hakata Ramen] What If... S01E06 [Disney+ 4K to 1080p x265 OPUS 5.1].ske
960 B
[HR] What If... S01E06 [DSN+ 4K to 1080p HEVC OPUS 5.1]~HR-DR/[HR] What If… S01E06 [3B881318].mkv
367.5 MB
Multimedia File
[HR] What If... S01E07 [DSN+ 4K to 1080p HEVC OPUS 5.1]~HR-DR/[Hakata Ramen] What If... S01E07 [Disney+ 4K to 1080p x265 OPUS 5.1].ske
945 B
[HR] What If... S01E07 [DSN+ 4K to 1080p HEVC OPUS 5.1]~HR-DR/[HR] What If… S01E07 [117E552A].mkv
436.9 MB
Multimedia File
[HR] What If... S01E08 [DSN+ 4K to 1080p HEVC OPUS 5.1]~HR-DR/[Hakata Ramen] What If... S01E08 [Disney+ 4K to 1080p x265 OPUS 5.1].ske
922 B
[HR] What If... S01E08 [DSN+ 4K to 1080p HEVC OPUS 5.1]~HR-DR/[HR] What If… S01E08 [478284D0].mkv
457.5 MB
Multimedia File
[HR] What If... S01E09 [DSN+ 4K to 1080p HEVC OPUS 5.1]~HR-DR/[Hakata Ramen] What If... S01E09 [Disney+ 4K to 1080p x265 OPUS 5.1].ske
892 B
[HR] What If... S01E09 [DSN+ 4K to 1080p HEVC OPUS 5.1]~HR-DR/[HR] What If… S01E09 [1C7DA51C].mkv
496.7 MB
Multimedia File
| | | | | | | | |
| --- | --- | --- | --- | --- | --- | --- | --- |
| Torrent Name | Added | Size | Seeds | Peers | Uploader | | Health |
| | 10 Oct | 3.7 GB | 0 | 0 | unknown | | |
| | 5 Oct | 923.2 MB | 4 | 1 | unknown | | |
| | 10 Oct | 7.4 GB | 0 | 0 | unknown | | |
| | 5 Oct | 680.6 MB | 2 | 6 | unknown | | |
| | 5 Oct | 701.1 MB | 24 | 5 | unknown | | |
| | 5 Oct | 1.5 GB | 4 | 1 | unknown | | |
| | 9 Oct | 1.8 GB | 8 | 2 | unknown | | |
| | 9 Oct | 737.6 MB | 6 | 7 | unknown | | |
| | 16 Oct | 1 GB | 12 | 4 | unknown | | |
| | 23 Oct | 574 MB | 28 | 8 | unknown | | |
| | 23 Oct | 662.3 MB | 28 | 12 | unknown | | |
| | 23 Oct | 595.9 MB | 49 | 40 | unknown | | |
| | 23 Oct | 810.4 MB | 42 | 52 | unknown | | |
| | Yesterday | 5.8 GB | 9 | 24 | unknown | | |
| | 26 Jan | 3.3 GB | 1 | 0 | unknown | | |