Warning! Do NOT Download Without a VPN!

Your IP Address is

. Location is

Your Internet Provider and Government can track your download activities! Hide your IP ADDRESS with a VPN!

We

strongly recommend using

a VPN service

to anonymize your torrent downloads.

It's FREE!

START YOUR FREE TRIAL NOW!



Resident Evil Village-EMPRESS




Status:
All the torrents in this section have been verified by our verification system
Category:
Games
Size:
27.4 GB in 4 files
Upload On:

10-07-2021

by user ChinaToros
Swarm:
2126 Seeds & 432 Peers
Language:
Russian - русский
Vote:

No votes yet.
Год выпуска: 2021

Жанр: Survival Horror, Sexual Content, Horror, Action

Разработчик: CAPCOM Co., Ltd.

Издатель: CAPCOM Co., Ltd.

Платформа: PC

Тип издания: Лицензия

Версия: build 6587890

Язык интерфейса: Русский, английский, MULTi

Язык озвучки: Русский, английский, MULTi

Лекарство: Присутствует {EMPRESS}



Системные требования:

ОС: Windows 10 (х64)

Процессор: AMD Ryzen 3 1200 / Intel Core i5-7500

Оперативная память: 8 GB ОЗУ

Видеокарта: AMD Radeon RX 560 with 4GB VRAM / NVIDIA GeForce GTX 1050 Ti with 4GB VRAM

DirectX: Версии 12

Дополнительно: Estimated performance (when set to Prioritize Performance): 1080p/60fps. Framerate might drop in graphics-intensive scenes. AMD Radeon RX 6700 XT or NVIDIA GeForce RTX 2060 required to support ray tracing.



Описание: Попробуйте выжить в кошмаре, равного которому еще не было, в восьмой игре легендарной серии Resident Evil – Resident Evil Village.



Игра начинается через несколько лет после ужасных событий признанной критиками Resident Evil 7 Biohazard. Новая сюжетная линия начинается с того, что Итан Уинтерс и его жена Миа мирно живут на новом месте, свободные от прошлого. Они делают первые шаги в совместной жизни, как вдруг случается новая трагедия.



Особенности игры:

Вид от первого лица. Игроки возьмут на себя роль Итана Уинтерса и увидят каждую битву и ужасающую погоню от первого лица

Знакомые лица и новые враги. Крис Редфилд обычно был героем в серии Resident Evil, но его появление в Resident Evil Village, по-видимому, связано со зловещей тайной. Множество новых противников, населяющих загадочную деревню, будут неустанно охотиться за Итаном и мешать ему разобраться в новом кошмаре, в котором он оказался

Живая, непредсказуемая деревня. Деревня в игре нечто большее, чем просто таинственный фон для пугающих событий. Это полноценный персонаж со своими тайнами, которые Итан должен раскрыть, и ужасами, которых следует избегать



Установка1. Смонтировать образ и установить игру;

2. Скопировать содержимое папки EMPRESS (на образе) в папку с игрой, заменить;

3. Играть.NFO
Скриншоты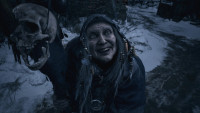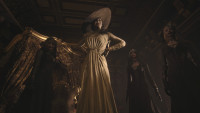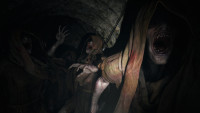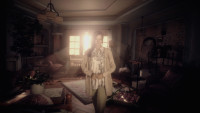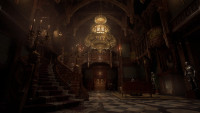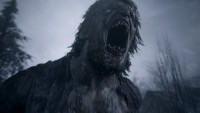 VISITOR COMMENTS (0 comments)
Filename
Size
Filetype
Resident Evil Village-EMPRESS
27.4 GB
Folder
emp-re8.iso
27.4 GB
DVD Disc Image
EMPRESS.nfo
14.4 KB
Metadata/Readme File
New Empress Theme.flac
6 MB
Lossless Audio File
Old Empress Theme.flac
3.9 MB
Lossless Audio File